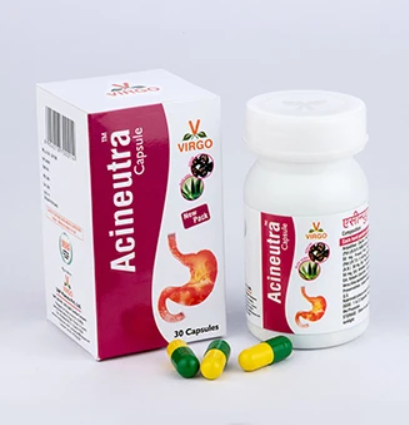 A Natural Acid Normalizer
Acineutra is the combination of acid normalizer, alkaliser, cool and sedative drugs. Acineutra is very effective to treat all type of acid-peptic disorders caused by the vitiation of Pitta.

COMPOSITION
Each capsule contains 450mg active ingredients:

Avipattikar Churna (Classical formulation)
60 mg
Kamdudha Rasa (Classical formulation)
60 mg
Sutshekhar Rasa (Classical formulation)
50 mg
Praval Pishti (Classical formulation)
20 mg
Shankh Bhasma (Classical formulation)
40 mg
Sajjikshar —-
20 mg
Trikatu (Classical formulation)
30 mg
Ext. Yastimadhu (Glycyrrhiza glabra)
50 mg
Ext. Amalaki (Emblica officinalis)
50 mg
Ext. Kokam (Garcinia cambogia)
40 mg
Ext. Aloe Vera (Aloe barbadensis)
30 mg
Excipients
Q.S.
BENEFITS ACINEUTRA CAPSULE
Controls the acid secretion and strengthens gastric mucosa.
Helps to heal gastric and duodenal ulcers.
Relieves pain, burning sensation, acid reflux and nausea.
Reduces all type of abdominal discomfort and produces sound sleep.
Helps digestion, morning evacuation and relieves gastric irritation.
DOSE:
1 to 2 capsules 2-3 times a day or as advised by the Physician.
PACKING:
30, 100, 500, 1000 Capsules
ANUPAN:
INDICATIONS:
Acid-peptic disorders
Duodenal &Gastric Ulcer
Reflux esophagitis
Dyspepsia
Hyperacidity