Holy Oil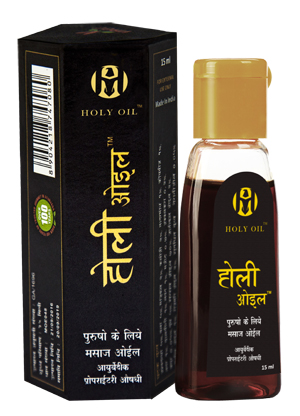 In today's fast lifestyle ,Male sexual dysfunction is a common health problem affecting men of all ages, but is more common with increasing age. Treatment can often help men suffering from sexual dysfunction. Physical or psychological problem that prevents you or your partner from getting sexual satisfaction. Psychological causes includes over concern about sexual performance, relationship problems, feelings of guilt, work-related stress and anxiety. Due to these reasons, a men can loose their vigour, vitality and that results in flabby, weak and loose penis.
To counter this condition, VIRGO presents a time tested HOLY Oil, an excellent herbal Ayurvedic external oil prepared from renown herbs such as Ashwagandha, Manjuphal, Nagarmoth, Kaunch Beej, Tagar ,Akkalkara and Kalonji along with stimulant herbs like Dalchini, Lavang and Karpur. On long term use, HOLY oil rejuvenates weak male organ to provide power and stamina.
Direction for Use: Apply 5 to 10 Drops of HOLY oil on loose and weak organ and massage continuously for 5 minutes at least 2 times a day.
Caution: Do not apply on the open and cut part of the organ.