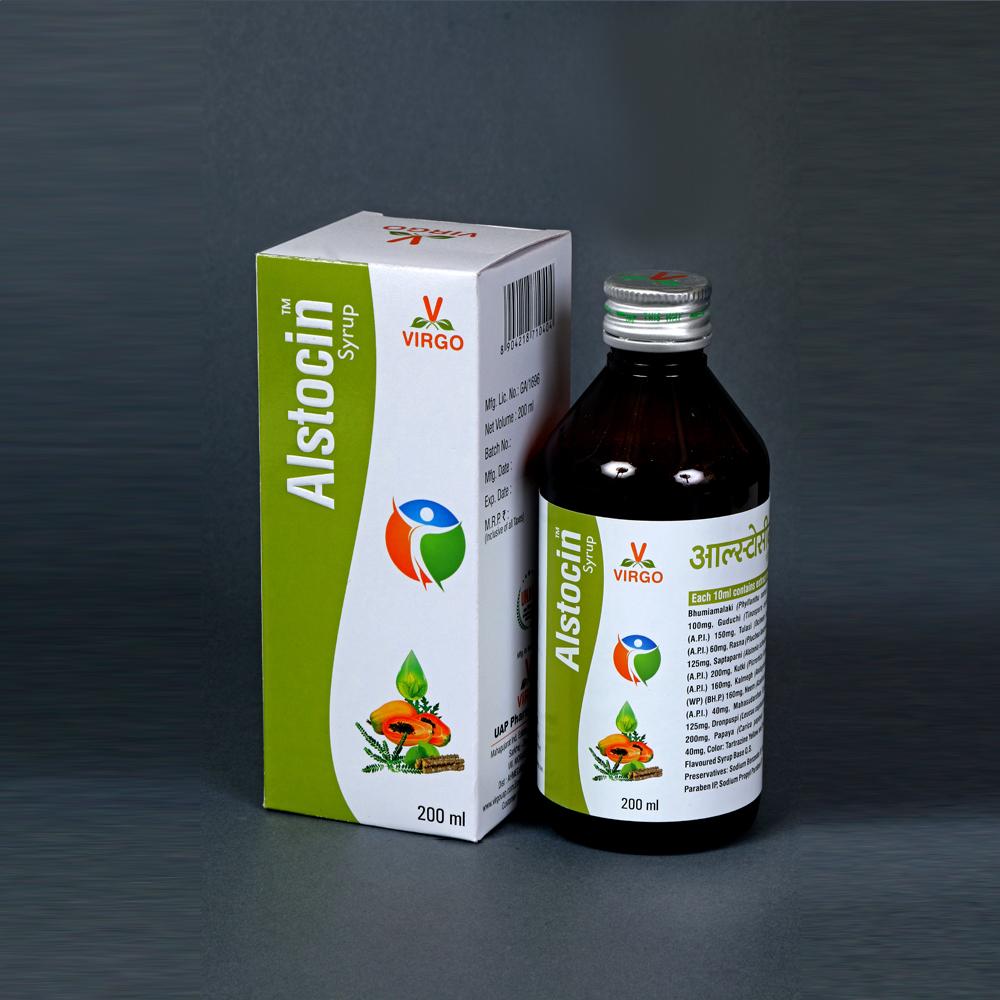 Enriched with PAPAYA, NEEM, TULASI, GUDUCHI & MAHASUDARSHAN
Alstocin is the combination of Anti-pyretic, Analgesic and Diaphoretic herbs. It is very useful to increase Platelets count. Alstocin is very effective for the treatment of chronic fevers like Dengue, Malaria and Chikunguniya.
COMPOSITION
Each 10ml contains extract derived from:

Bhumiamalaki (Phyllanthus niruri)
100 mg
Guduchi (Tinospora cordifolia)
150 mg
Tulasi (Ocimum sanctum)
60 mg
Rasna (Pluchea lanceolata)
125 mg
Saptaparni (Alstonia scholaris)
200 mg
Kutki (Picrorhiza kurroa)
160 mg
Kalmegh (Andographis paniculata)
160 mg
Neem (Azadirachta indica)
40 mg
Mahasudarshan Extract (Classical formulation)
125 mg
Dronpuspi (Leucasce phalotes)
200 mg
Papaya (Carica papaya)
40 mg
Flavoured Liquid Base
Q.S.
BENEFITS ALSTOCIN SYRUP
Increase the Platelets count & reduce symptoms of Chronic fever like Dengue, Malaria &Chikungunya.
Reduce body temperature and Body ache.
Improves immunity.
Prevent cell damages caused by Free radicals.
DOSE:
Children: ½ to 1 teaspoonful twice a day with water after meal or as advised by the physician
Adult: 1 to 2 teaspoonfuls twice or thrice day with water after meal or as advised by the physician.
PACKING:
INDICATIONS:
Low Platelets count
Dengue
Chikunguniya
Malaria
Viral fever
Pyrexia of unknown origin.