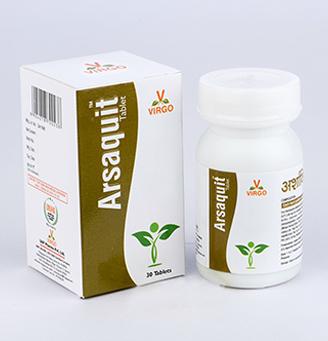 Say No to Piles and Associated Symptoms
Arsaquit is the combination of Blood Purifier, Haemostatic, Laxative, Anti-Inflammatory and Disinfectant herbs. Arsaquit is very effective for all types of Bleeding and Non-bleeding Piles.
COMPOSITION
Each film coated tablet contains 525 mg active ingredients.

Arshoghni Vati (Classical formulation)
125 mg
Shuddha Guggulu (Commiphora wightii)
125 mg
Ext. Triphala (Classical formulation)
60 mg
Ext. Suran (Amorphophalluscampanufatus)
40 mg
Ext. Daruharidra (Berberis aristata)
30 mg
Hirabol (Commiphora myrrha)
30 mg
Shuddha Tankan —
30 mg
Ext. Amalatas (Cassia fistula)
25 mg
Ext. Aritha (Sapindus trifoliatus)
25 mg
Neem Beej (Azadirachta indica)
20 mg
Nagkesar (Mesua ferrea)
15 mg
Excipients
Q.S.
BENEFITS ARSAQUIT TABLET
Anti-inflammatory, Anti-pruritic and Anti-haemorrhagic.
Improves Blood circulation, reduces Haemorrhoidal congestion and shrinks pile mass.
Heals Fissure and relieves Ano rectal symptoms.
Relieves Constipation, Reduces pain & Burning sensation and effectively checks the bleeding.
Cures all symptoms as well as prevents complications of Piles.
DOSE:
2 Tablets two time a day with Abhayarishta or as advised by physician
PACKING:
30, 100, 500, 1000 Tablets
INDICATIONS:
Bleeding haemorrhoids
Non-bleeding haemorrhoids
Fissure in ano