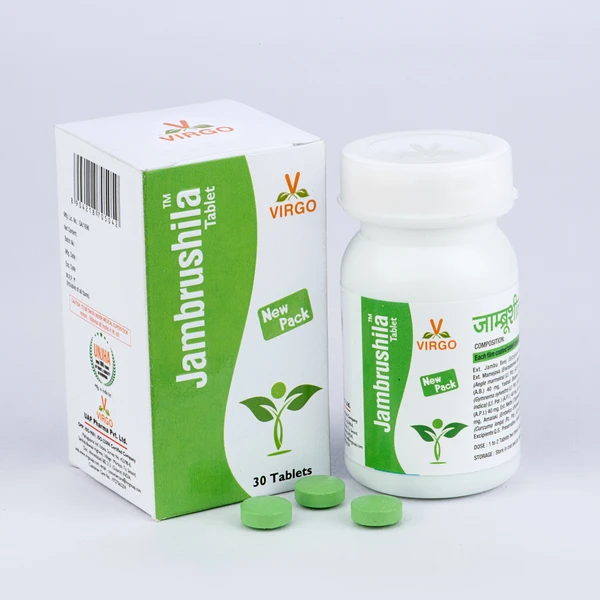 Bring sweetness in the bitter life of Diabetic Patients
Jambrushila is the excellent combination of the Ayurvedic oral Hypoglycaemic drugs. Jambrushila is the drug of choice to treat all stages of the Hyperglycaemia.
COMPOSITION
Each film coated tablet contains 460 mg active ingredient

Ext. Jambu Beej (Syzygium cuminii)
90 mg
Ext. Mamejava (Enicostemma litorale)
50 mg
Suddha Shilajit (Asphaltum punjabianum)
40 mg
Yashad Bhasma (Classical formulation)
30 mg
Gudamar (Gymnema sylvestre)
40 mg
Neem Patra (Azadirachta indica)
40 mg
Ext. Karela (Momordica charantia)
40 mg
Ext. Methi (Trigonella foenum-graecum)
30 mg
Amalaki (Embelica officinalis)
30 mg
Haridra (Curcuma longa)
30 mg
Bilipatra
50 mg
Excipients
Q.S.
Colour
F.C. Green
BENEFITS JAMRUSHILA TABLET
Stimulates Pancreas and corrects Sugar metabolism.
Maintains Normal level of Sugar in Blood and Urine.
Promotes Utilization of Insulin by increasing number of Insulin receptors.
Checks Macro &Micro vascular complications very effectively.
Prevents damage of the vital organs.
DOSE:
1 to 2 tablets two times a day or as advised by the Physician
PACKING:
30, 100, 500, 1000 Tablets
INDICATIONS:
Non-insulin dependent diabetes mellitus (NIDDM)
Chronic urinary tract infections
Glycosuria
As an adjuvant to allopathic anti-diabetic drugs.