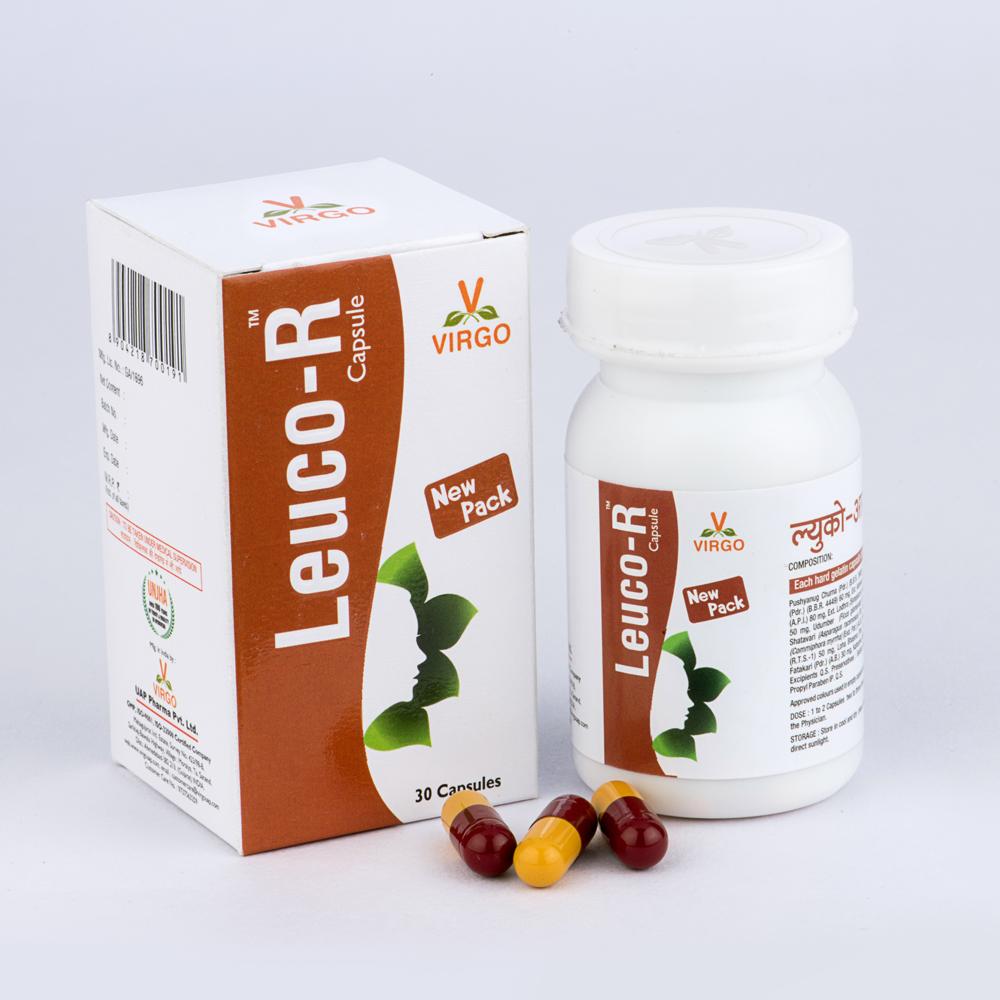 Effective remedy in vanishing white discharge
Leuco-R is the excellent combination of haemostatic, haematinic, disinfectant and rejuvenating drugs. Leuco-R is very effective for all type of abnormal and excessive white & bloody discharge from the genito-urinary tract.
COMPOSITION
Each capsule contains 525 mg active ingredients:

Pushyanug Churna (Classical formulation)
125 mg
Pradarantak Rasa (Classical formulation)
60 mg
Ext. Ashoka (Saraca asoca)
80 mg
Ext. Lodhra (Symplocos racemosa)
50 mg
Udumber (Ficus glomerata)
30 mg
Shatavari (Asparagus racemosus)
30 mg
Hirabol (Commiphora myrrha)
20 mg
Godanti Bhasma (Classical formulation)
50 mg
Loha Bhasma (Classical formulation)
30 mg
Shuddha Fatakari
30 mg
Kaharava Pishti (Classical formulation)
20 mg
Excipients
Q.S.
BENEFITS KAFNORM SYRUP
Controls the infection and maintains the pH of vagina.
Checks hyperactivity of cervical glands.
Relieves associated back pain and anxiety
Reduces pelvic congestion.
Very good iron and calcium supplement
Reduce the weakness and recharges the energy
Keeps the female reproductive system healthy.
DOSE:
1 to 2 capsules three times a day or as advised by the Gynaecologist.
PACKING:
30, 100, 500, 1000 Capsules
INDICATIONS:
Leucorrhea of any origin
Dysfunctional uterine bleeding
Menorrhagia
Metrorrhagia