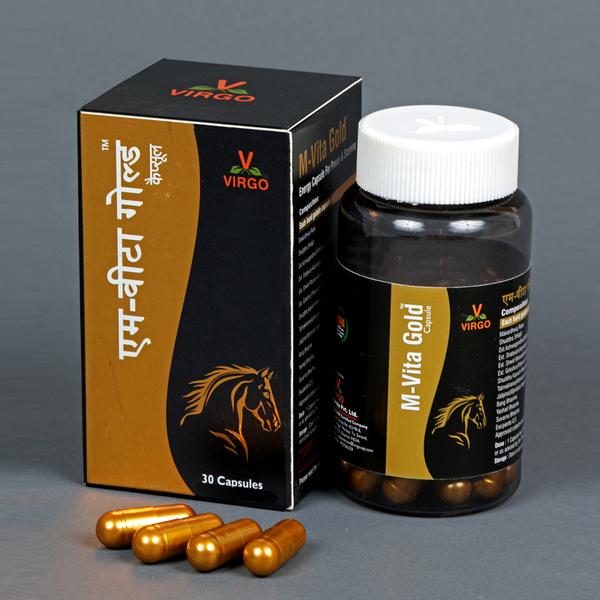 Energy Capsule for Power & Stamina
M-Vita Gold is the excellent combination of vitalizer, aphrodisiac, immuno modulator and rasayana drugs. M-Vita Gold is very effective as general tonic in various types of immuno compromising conditions.
COMPOSITION
Each capsule contains 501 mg active ingredients:

Makardhwaj Rasa (Classical formulation)
30 mg
Shuddha Shilajit (Asphaltum punjabinum)
60 mg
Ext. Ashwagandha (Withania somnifera)
75 mg
Ext. Shatavari (Asparagus racemosus)
50 mg
Ext. ShwetMoosali (Asparagus adscendens)
40 mg
Ext. Gokshura (Tribulus terrestris)
60 mg
Shuddha Kaunch Beej (Mucuna puriens)
90 mg
Talmakhana (Asteracantha longifolia)
30 mg
Jatiphal (Myristica fragrans)
20 mg
Bang Bhasma (Classical formulation)
20 mg
Yashad Bhasma (Classical formulation)
25 mg
Suvarna Bhasma (Classical formulation)
1 mg
Excipients
Q.S.
BENEFITS M-VITA GOLD CAPSULE
Powerful nutritive, revitalizer and safe general tonic.
Reduces mental stress and induces sound sleep.
True rejuvenator for all type of penile problems.
Safe for regular use for long time
DOSE:
1 capsule twice a day with milk or as advised by the Physician.
PACKING:
30, 100, 500, 1000 Capsules
INDICATIONS:
General debility
Impotency
Semen abnormalities
Stress & Psychosexual problems
Immuno compromising conditions