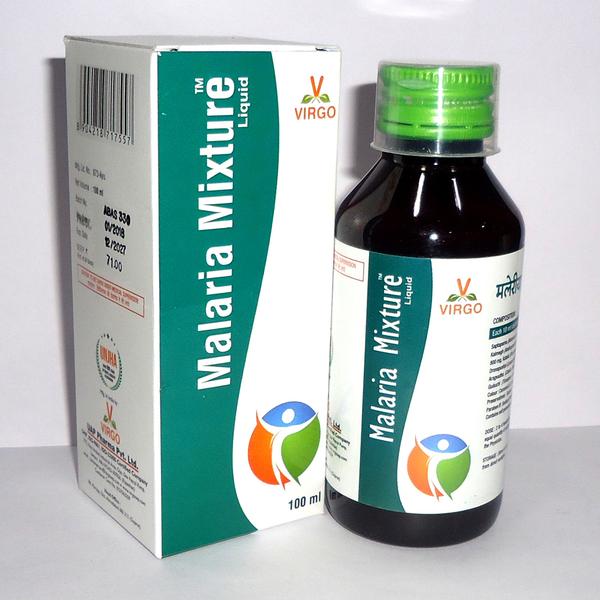 Safe Answer for Fever
Malaria Mixture is the excellent combination of antipyretic, especially antimalarial herbs. Malaria Mixture is very useful and effective for the all type of malarial fever and its complications.
COMPOSITION
Each 10 ml contains extract derived from:

Saptaparna (Alstoniascholaris)
800 mg
Kalmegh (Andrographispaniculata)
800 mg
Katuki (Picrorhizakurroa)
400 mg
Dronapushpi (Leucascephalotes)
800 mg
Aragvadha (Cassia fistula)
200 mg
Guduchi (Tinospora cordifolia)
400 mg
Arishta Base
Q.S.
Colour:Caramel
Q.S.
BENEFITS MALARIA MIXTURE LIQUID
Effectively controls the symptoms and complications of fever.
Reduces the post fever weakness.
Checks the recurrence of the fever.
Malaria Mixture builds the immunity and strengthens the body.
DOSE:
2 to 4 teaspoonful twice a day with equal quantity of water after meal or as advised by the Physician.
PACKING:
INDICATIONS:
Malarial fever
Viral fever
Pyrexia of unknown origin
Chronic fever