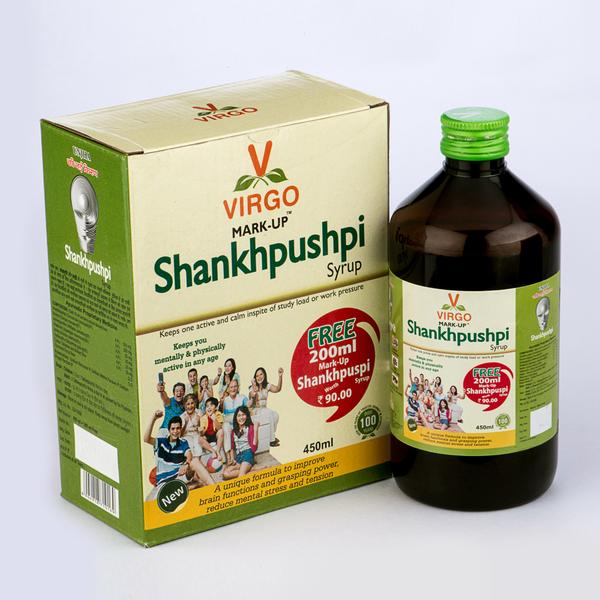 For excelling in today's competitive world
Mark-Up Shankhpushpi is the excellent combination of the Ayurvedic memory booster, sedative, anxiolytic and brain tonic herbs. Mark-Up Shankhpushpi is very useful for all type of stress and memory related disorders.
COMPOSITION
Each 10 ml contains extract derived from:

Shankhpushpi (Convolvulus pluricaulis)
500 mg
Brahmi (Bacopa monnieri)
200 mg
Ashwagandha (Withania somnifera)
25 mg
Shatavari (Asparagus racemosus)
25 mg
Vacha (Acorus calamus)
25 mg
Yastimadhu (Glycyrrhiza glabra)
25 mg
Colour
Tatrazine and Brilliant Blue Q.S.
Flavoured Syrup Base
Q.S.
BENEFITS MARK-UP SHANKHPUSHPI SYRUP
Increase brain protein contents, thus, increasing acquisition efficiency.
Transfers high energy in the brain cells, which are concerned with attention of long term memory
Very powerful stress reliever, mood elevator and memory enhancer.
Improves higher mental functions, mental quotient, concentration and learning ability
Induces sound sleep, reduces anxiety and calms the mind and body.
Keeps the executives fit and mentally active throughout the day.
DOSE:
Children: 1/2 to 1 teaspoonful three times a day
Adult: 2 teaspoonfuls three times a day or as advised by the Physician.
PACKING:
INDICATIONS:
Poor memory, concentration and learning problems
Stress, Anxiety, Insomnia
As an adjuvant in epilepsy Insanity, Mental retardation Alzheimer's disease
As a brain tonic