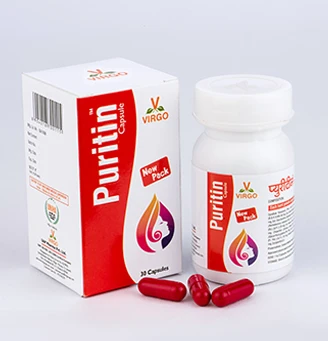 For Pure Blood
Puritin is the combination of blood purifier, anti-bacterial, anti-allergic and anti-fungal compounds. Puritin is very effective for all type of acute and chronic dermatological disorders.
COMPOSITION
Each capsule contains 410 mg active ingredients:

Gandhak Rasayana (Classical formulation)
100 mg
Rasamanikya (Classical formulation)
40 mg
Ext. Brihat Manjisthadi Kwath (Classical formulation)
50 mg
Ext. Daruharidra (Barberis aristata)
50 mg
Ext. Anantmool (Hemidesmus indicus)
20 mg
Ext. Haridra (Curcuma longa)
20 mg
Ext. Neem Patra (Azadirachta indica)
30 mg
Chopchini (Smilax china)
20 mg
Yastimadhu (Glycyrrhiza glabra)
20 mg
Haritaki (Terminalia chebula)
30 mg
Khadir (Acacia catechu)
30 mg
Excipients
Q.S.
BENEFITS PURITIN CAPSULE
Controls the itching of any etiology.
Heals the infected chronic wounds, ulcers and improves the skin quality
Drug of choice for all type of bacterial, allergic and fungal infections of the skin.
Very good blood purifier and protect of the skin.
Restores the normalcy of the skin.
DOSE:
1 to 2 capsules three times a day with Brihat Manjisthadi Quath, Raktshodhak Syrup of Sarsaparila Liquid or as advised by the Physician.
PACKING:
30, 100, 500, 1000 Capsules
INDICATIONS:
Acute, chronic & allergic dermatitis
Eczema
Acne vulgaris
Fungal infection
Leprosy
Urticaria