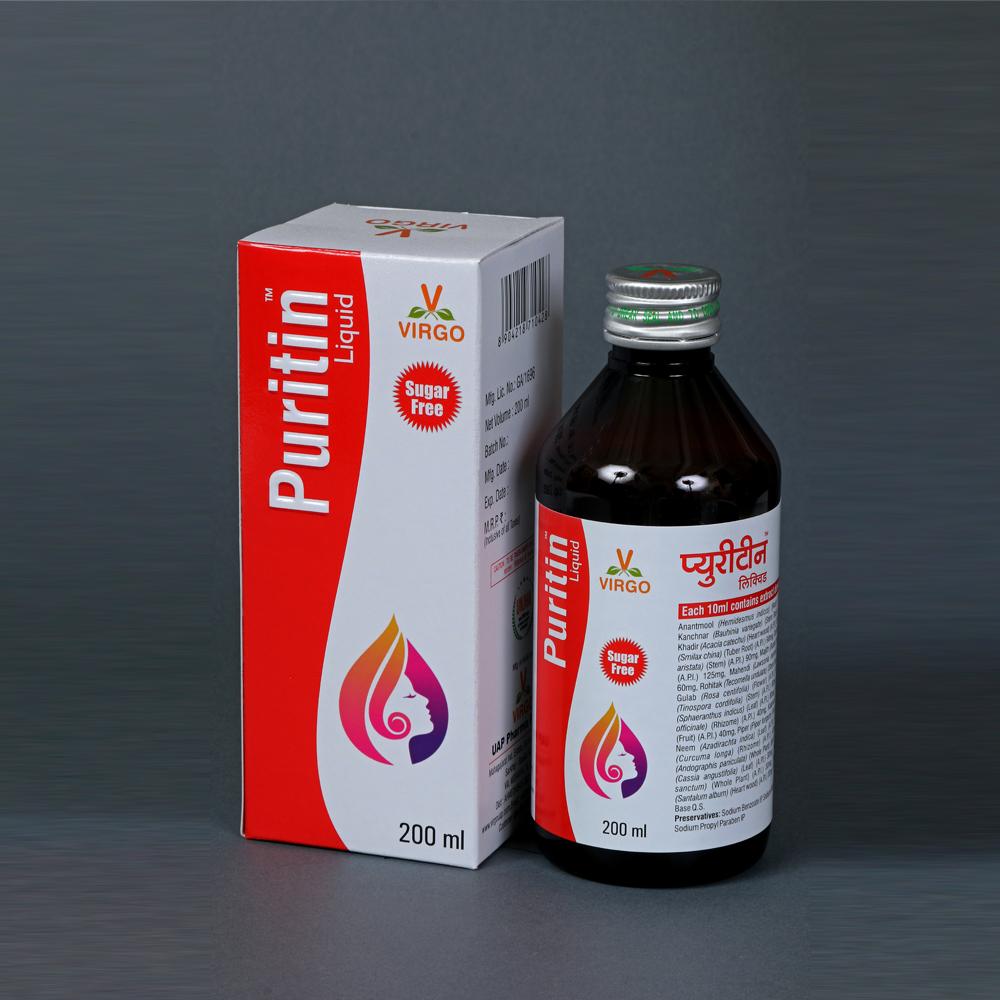 For Pure Blood
Puritin Liquid is combination of antimicrobial, blood purifier, anti-fungal, anti-viral, hepatoprotective and laxative herbs. It checks blood impurities by enhancing liver function and digestion. It helps to expel out toxins and waste materials from the body.
COMPOSITION
Each 10ml contains extract derived from:

Anantmool (Hemidesmus indicus)
250 mg
Kanchnar (Bauhinia variegate)
125 mg
Khadir (Acacia catechu)
125 mg
Chopchini (Smilax china)
90 mg
Daruhaldar (Berberis aristata)
90 mg
Majith (Rubia cordifolia)
125 mg
Mahendi (Lawsonia inermis)
60 mg
Rohitak (Tecomella undulata)
90 mg
Gulab (Rosa centifolia)
90 mg
Guduchi (Tinospora cordifolia)
60 mg
Gorakhmundi (Sphaeranthus indicus)
80 mg
Sunthi (Zingiber officinale)
40 mg
Kalamari (Piper nigrum)
40 mg
Piper (Piper longum)
40 mg
Neem (Azadirachta indica)
40 mg
Haridra (Curcuma longa)
40 mg
Kalmegha (Andographis paniculata)
60 mg
Senna (Cassia angustifolia)
30 mg
Tulasi (Ocimum sanctum)
30 mg
Shwet Chandan (Santalum album)
30 mg
Flavoured Liquid Base
Q.S.
BENEFITS PURITIN LIQUID
Very effective blood purifier
Protects from bacteria, fungal and allergic infections
Restores normalcy of the skin.
DOSE:
Children: ½ to 1 teaspoonful twice a day with water after meal or as advised by the physician.
Adult: 1 to 2 teaspoonful twice a day with water after meal or as advised by the physician
PACKING:
INDICATIONS:
Acute, Chronic and Allergic skin diseases
Eczema
Pimples
Fungal Infections
Leprosy
Urticaria