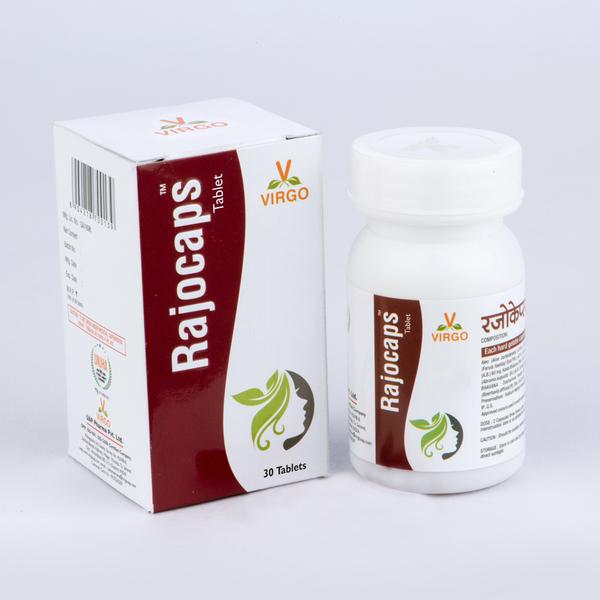 Treats Female Infertility, Regulates disturbed Menstruation Cycle
Rajocaps is the combination of emmenogogue and uterine stimulant drugs. Rajocaps, the non-hormonal herbo-mineral compound is very useful for all type of menstruation related disorders.
COMPOSITION
Each tablet contains 525 mg active ingredients:

Aleo (Aloe barbadensis)
75 mg
Shudhdha Hing (Ferula foetida)
75 mg
Shudhdha Suhaga —
75 mg
Kasis Bhasma (Classical formulation)
75 mg
Ext. Ulatkamal (Abroma augusta)
70 mg
Ext. Papaya (Carica papaya)
50 mg
Ext. Gajar (Daucuscarota)
30 mg
Dalchini (Cinnamomum zeylanicum)
30 mg
Trikatu (Classical formulation)
45 mg
BHAVANA
Dashamool Kwath (Classical formulation)
20 mg
Punarnava Kwath (Boerhavia diffusa)
20 mg
Aloe Vera Juice (Aloe barbadensis)
20 mg
Excipients
Q.S.
BENEFITS RAJOCAPS TABLET
Induces menstruation flow by stimulating the ovaries and uterine blood flow.
Regulates the ovarian as well as uterine cycle.
Reducing pain during menstruation and keeps the female smiley throughout the month.
Acts as a uterine tonic and brings on conception.
DOSE:
2 Tablets two times a day 10 days prior to expected menstruation date or as advised by the Gynaecologist.
Note: Do not take during pregnancy.
PACKING:
30, 100, 500, 1000 Tablets
INDICATIONS:
Amenorrhea
Oligomenorrhea
Delayed menstruation
Dysmenorrhea
Ovarian failure
PCOD
Infertility