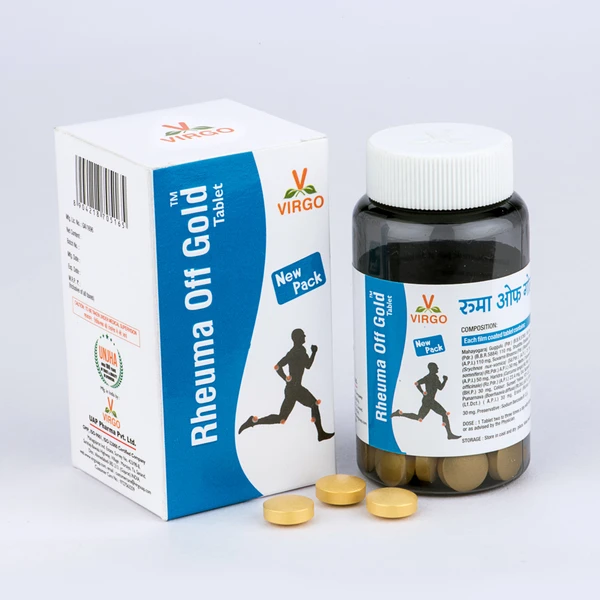 When walking a step, become Marathon Task
Rheuma off Gold is the combination of analgesic, non-steroidal, anti-inflammatory and Immuno-modulating drugs. Rheuma off Gold is very good tonic for the disorders of muscular-skeletal system.
COMPOSITION
Each film coated tablet contains 525 mg active ingredients:

Mahayogaraj Guggulu (Classical formulation)
100mg
Ext. Maharasnadi Kwath (Classical formulation)
110mg
Shudhdha Shallaki (Boswellia serrata)
110mg
Suvarna Bhasma (Classical formulation)
1.6mg
Shudhdha Kuchala (Strychnos nux-vomica)
25mg
Ashwagandha (Withania somnifera)
50mg
Methi (Trigonella foenum-graecum)
50mg
Haridra (Curcuma Ionga)
25mg
Sunthi (Zingiber officinale)
23.4mg
Ext.Suranjan (Colchicum Iuteum)
30mg
Colour: Sunset Yellow FCF
Q.S.
BHAVANA
Punarnava (Boerhaavia diffusa)
30mg
Nirgundi (Vitex negundo)
30mg
Erand (Ricinus communis)
30mg
BENEFITS RHEUMA OFF GOLD TABLET
Well tolerated, not causing gastric irritation.
Potent analgesic, anti-inflammatory and immuno modulating action.
Effectively controls joint pain, swelling and stiffness.
Improves joint movement, stability and prevents the bony deformities.
Improves range of joint movements.
Normalizes the physiological parameters.
DOSE:
1 tablet 2-3 times a day with warm water or as advised by the Physician.
PACKING:
30, 100, 500, 1000 Capsules
INDICATIONS:
Osteoarthritis
Rheumatoid arthritis
Sciatica
Synovitis
Frozen shoulder
Ankylosing spondylitis
Gout