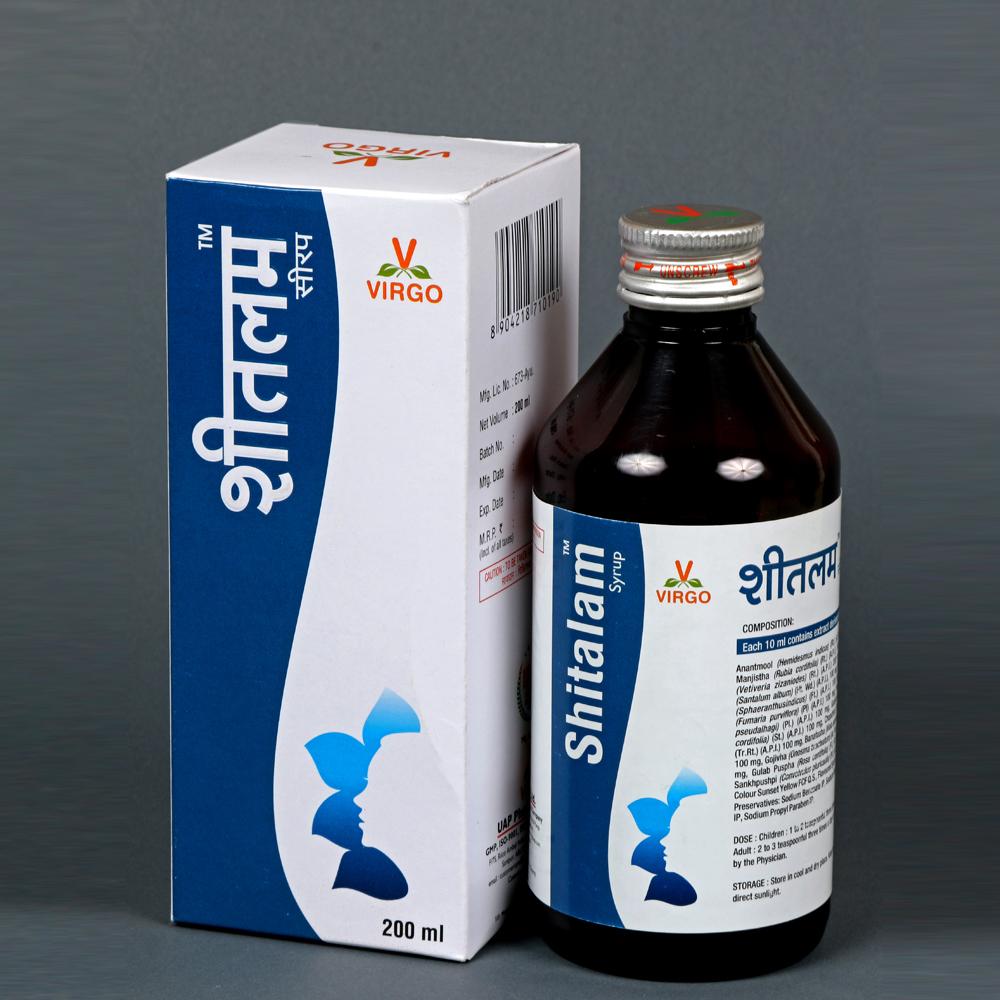 Excellent Blood Purifier
Shitalam is cooling, refreshing & energetic Ayurvedic compound, especially made to stay cool in hot summer season. Shitalam is very delicious in taste and very cool in effect.
COMPOSITION
Each 10 ml contains extract derived from:

Anantmool (Hemidesmus indicus)
100 mg
Manjistha (Rubia cordifolia)
100 mg
Ushir (Vetiveria zizaniodes)
200 mg
Chandan (Santalum album)
100 mg
Gorakhmundi (Sphaeranthus indicus)
100 mg
Parpatak (Fumaria purviflora)
100 mg
Yavasa (Alhagi pseudalhagi)
100 mg
Guduchi (Tinospora cordifolia)
100 mg
Chopchini (Smilax china)
100 mg
Banafasha (Viola odorata)
100 mg
Gojivha (Onosma bracteatum)
100 mg
Gulab Puspha (Rosa centifolia)
100 mg
Sankhpushpi (Convolvulus pluricaulis)
100 mg
Flavoured Syrup Base
Q.S.
Colour
Sunset Yellow FCF
BENEFITS SHITALAM SYRUP
Very cool and refreshing tonic of the summer season.
Reduces the extra body heat and the chance of sun-stroke.
Very good diuretic, rendering the urine alkaline.
Controls the excessive sweating from palms & soles.
Excellent blood purifier keeps the skin healthy and shining.
Checks the giddiness & headache caused by excess pitta.
DOSE:
Children: 1 to 2 teaspoonful three times a day
Adult: 2 to 3 teaspoonful three times a day or as advised by the Physician.
PACKING:
INDICATIONS:
Sunstroke
Prickly heat
Burning sensation
Vertigo
Burning micturition