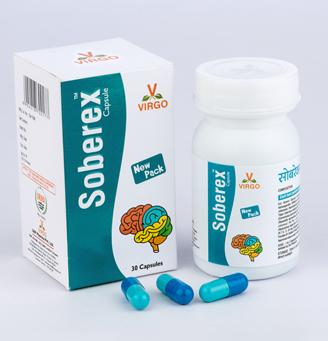 The Reliable and Safe Anxiolytic
Soberex is the combination of memory enhancer, anxiolytic and anti-hypertensive, sedative herbs. Soberex is very effective for stress related, primary & secondary mental disorders.
COMPOSITION
Each capsule contains 450 mg active ingredients:

Ext. Brahmi (Bacopa monnieri)
100 mg
Ashwagandha (Withania somnifera)
100 mg
Jatamansi (Nardostachys jatamansi)
50 mg
Tagar (Valeriana wallichii)
50 mg
Shankhpushpi (Convolvulus pluricaulis)
40 mg
Sarpagandha (Rauwolfia serpentina)
40 mg
Vacha (Acorus calamus)
30 mg
Khurasani Ajawain (Hyoscyamus niger)
20 mg
Akik Bhasma (Classical formulation)
20 mg
Excipients
Q.S.
BENEFITS SOBEREX CAPSULE
Cool & calms the mind and recharge the mental energy.
Induces sound sleep and controls the blood pressure.
Reduces the stress, elevates the mood and tones the nerves.
Very effective for mental weakness, giddiness and vomiting.
Increases the brain capacity of students and executive professionals.
Relives mental and physical fatigue.
Improves memory and helps better concentration.
DOSE:
1-2 capsules 2-3 times a day with milk or as advised by the Physician.
PACKING:
30, 100, 500, 1000 Capsules
INDICATIONS:
Anxiety
Depression
Psychosis
Mental retardation
Insomnia
Hypertension
As a memory booster brain tonic