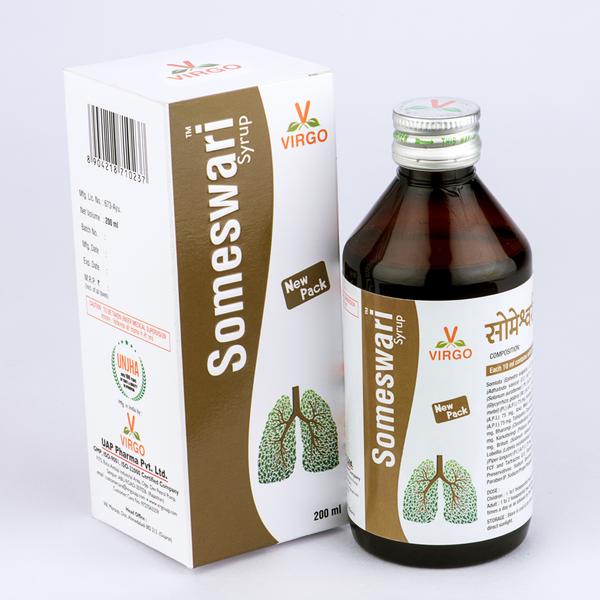 The Reliable and Safe Anxiolytic
Someswari is the combination of Bronchodilator, expectorant and mucolytic herbs. Someswari is very effective to treat all type of Asthmatic conditions.
COMPOSITION
Each 10 ml contains extract derived from:

Somlata (Sarcostoma bravistigma)
375 mg
Vasa (Adhatoda vasica)
375 mg
Kantakari (Solanum surattense)
375 mg
Yastimadhu (Glycyrrhiza glabra)
75 mg
Dhatur (Datura metel)
75 mg
Kustha (Sausurea lappa)
75 mg
Arka Mool (Calotropis procera)
75 mg
Talispatra (Taxus baccata)
75 mg
Bharangi (Clerodendrum serratum)
75 mg
Karkatsringi (Pistacia integerrima)
75 mg
Brihati (Solanum indicum)
75 mg
Lobellia (Lobelia nicotianifolia)
75 mg
Pipali (Piper longum)
75 mg
Flavoured Syrup Base
Q.S.
Colour Sunset Yellow FCF
Q.S.
And Tartrazine
BENEFITS SOMESWARI SYRUP
Excellent bronchodilator, relieves the bronchospasm and makes the breathing easy.
Very good expectorant, pulls out the thick-viscid sputum and clears the airways obstruction.
Soothens the respiratory mucosa and reduces the irritation.
Improves the immunity and reduces the chronic inflammatory process.
Tone-up the lungs & improve the vital capacity.
DOSE:
Children: ½ to 1 teaspoonful two to three times a day
Adult: 1 to 2 teaspoonful two to three times a day or as advised by the Physician.
PACKING:
INDICATIONS:
Bronchial asthma
Allergic Asthma
COPD
Bronchiectasis
Fibrosing alveolitis