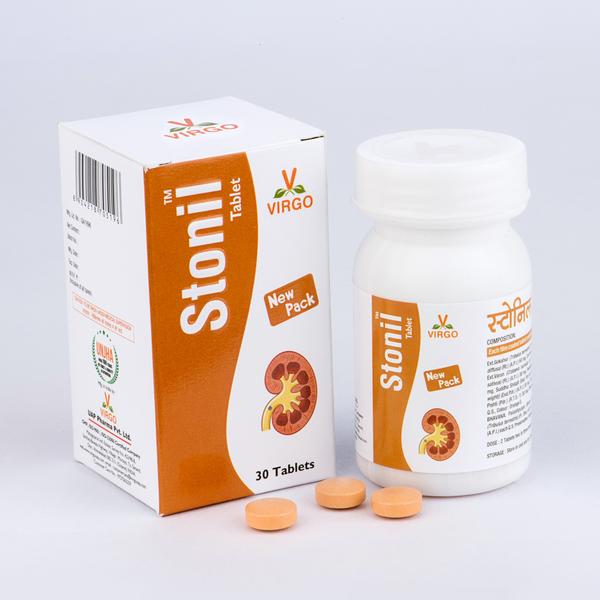 Perfect Answer to Recurrent Stone formation
Stonil is the unique Ayurvedic combination of anti-lithogenic, diuretic, anti-spasmodic and anti-inflammatory drug. Stonil is very useful to treat all type of urinary calculus and recurrent stone formation.
COMPOSITION
Each film coated tablet contains 500 mg active ingredients:

Ext. Gokshura (Tribulus terrestris)
60 mg
Ext.Punarnava (Boerhavia diffusa)
60 mg
Ext.Kulathi (Vingaunguiculata)
60 mg
Ext.Varun (Crataeva nurvala)
20 mg
Ext. Mooli (Raphanussativus)
30 mg
Pashanbhed (Bergenia ciliate)
60 mg
Suddha Shilajit (Asphaltum punjabianum)
40 mg
Suddha Guggulu (Commiphora wightil)
30 mg
Yavakshar
30 mg
Hajarul Yahud Pishti (Classical formulation)
30 mg
Shwet Parpati (Classical formulation)
80 mg
Excipients
Q.S.
Colour
Orange G
BHAVANA:
Palashpuspa (Butea monosperma)
Q.S.
Gokshur (Tribulus terrestris)
Q.S.
Punarnava (Boerhavia diffusa)
Q.S.
BENEFITS STONIL TABLET
Act as a micro pulverization on calculus and flushes them out with strong diuretic action.
Maintains the urinary pH and also relieves the burning micturition.
Reduces the stone forming substances like oxalic acid and calcium hydroxilase
Controls renal colic and comforts the person.
DOSE:
2 tablets 2-3 times a day or as advised by the Physician.
PACKING:
30, 100, 500, 1000 Tablets
INDICATIONS:
Urinary calculus
Repeated stone formation
Urinary tract infections