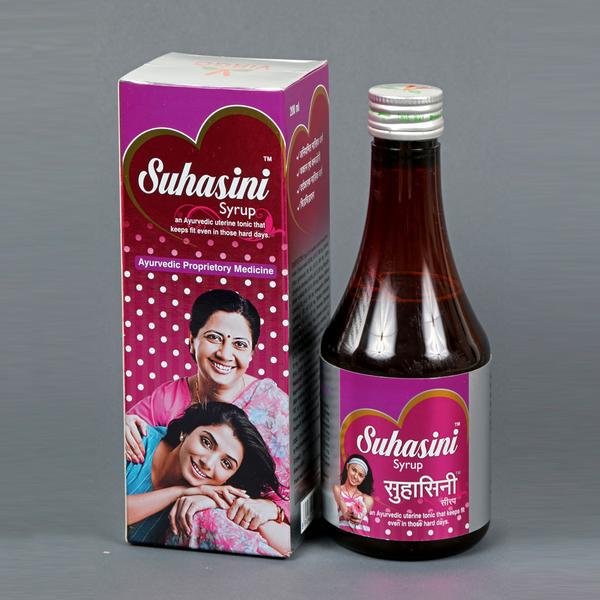 A Potent Uterine Tonic
Suhasini is excellent, non-hormonal feminine tonic, especially made to treat all type of menstruation related gynaecological disorders. Suhasini is the ever best combination of the herbs, having haemostatic, blood purifying, hemetinic and diuretic properties.
COMPOSITION
Each 15 ml contains extract derived from:

Ashok (Saraca asoca)
500 mg
Udumbar (Ficus glomerata)
500 mg
Lodhra (Symplocos racemosa)
200 mg
Manjistha (Rubia cordifolia)
200 mg
Molasari (Selinum candollei)
200 mg
Ashwagandha (Withania somnifera)
50 mg
Shatavari (Asparagus racemosus)
50 mg
Punarnava (Boerhavia diffusa)
50 mg
Vasa (Adhatoda vasica)
50 mg
Darbhamool (Imperata cylindrica)
50 mg
Kamalphool (Nelumbo nucifera)
20 mg
Gokshur (Tribulus terrestris)
20 mg
Bilva (Aegle marmelos)
20 mg
Palashpuspa (Butea monosperma)
20 mg
Nagarmotha (Cyperus rotundus)
20 mg
Bala (Sida cordifolia)
20 mg
Flavoured Syrup Base
Q.S.
Colour
Sunset Yellow FCF & Tartrazine
BENEFITS SUHASINI SYRUP
Time tested medicine for regulation of menstrual and ovarian cycle.
Checks excessive bleeding and white discharge of various etiology.
Controls the law back & abdominal pain during & before menstruation.
Reduces the chance of abortion and helps conception
Very good pregnancy tonic also restores the energy after the labour.
Reduces the premenstrual tension and controls the symptoms.
Complete general and uterine tonic for the female, keeps the female smiley throughout the month by taking care of her routine problems.
DOSE:
2 to 3 teaspoonful three times a day or as advised by the Gynaecologist.
PACKING:
INDICATIONS:
Menorrhagia
Metrorrhagia
Dysfunctional uterine bleeding
Premenstrual & menopausal syndrome
Leucorrhea
Habitual abortion
Weakness
As a general uterine tonic