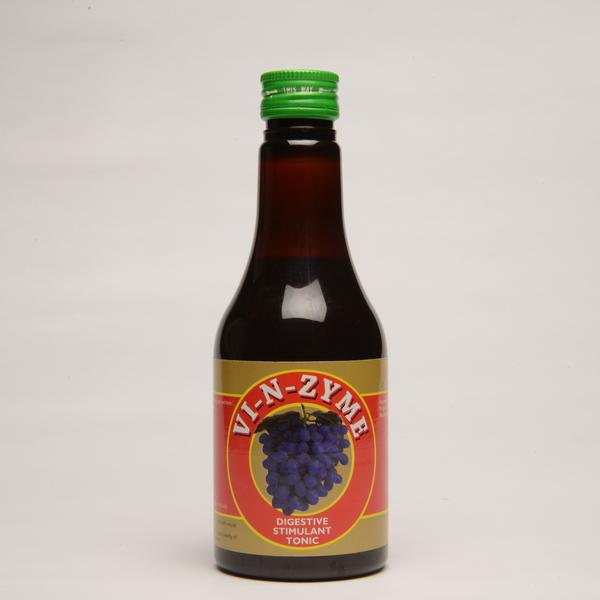 A Natural Appetizer and Digestive
VI-N-Zyme is the combination of appetizer, digestive and nutritive herbs. VI-N-Zyme is useful for disorders caused by poor appetite and digestion.
COMPOSITION
Each 10 ml contains extract derived from:

Draksha (Vitis venifera)
400 mg
Bhringraj (Eclipta alba)
300 mg
Chitrak (Plumbago zeylanica)
300 mg
Pipali (Piper longum)
250 mg
Sunthi (Zingiber officinale)
250 mg
Elaychi (Elettaria cardamomum)
150 mg
Tamalpatra (Cinnamomum tamala)
300 mg
Nagkesar (Mesua ferrea)
200 mg
Ajmoda (Apium leptophyllum)
200 mg
Chavya (Piper retrofractum)
200 mg
Marich (Piper nigrum)
200 mg
Arishta Base
Q.S.
Colour
Caramel
BENEFITS VI-N-ZYME LIQUID
Increases the secretions of digestive enzymes.
Increases the desire of the food.
Helps in the chronic constipation.
Non-sedative and non-addictive.
Improves the tissue metabolism.
Stimulates the liver and entire digestive tract.
Safe for all age group.
DOSE:
Children: 1 to 2 teaspoonfuls twice a day with equal quantity of water after meal.
Adult: 2 to 4 teaspoonful twice a day with equal quantity of water after meal or as advised by the Physician.
PACKING:
INDICATIONS:
Loss of appetite
Indigestion
Dyspepsia
Anorexia nervosa
Flatulence