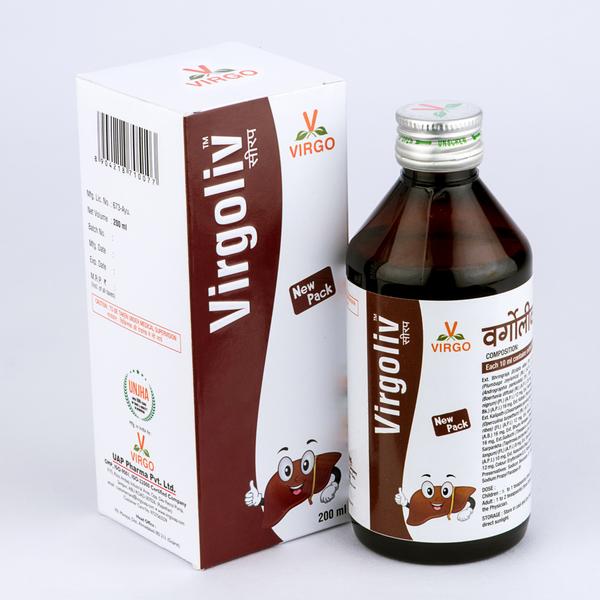 To Make Liver Healthy
Virgoliv Syrup is the excellent combination of hepato-spleno stimulants, hepato-protectives, digestives, anthelmintics and blood purifiers. Virgoliv Syrup is very useful for all type of Liver-Spleen related disorders.
COMPOSITION
Each 10 ml contains:

Ext. Bhringraj (Eclipta alba)
20 mg
Ext. Punarnava (Boerhavia diffusa)
20 mg
Ext. Kalmegh (Andrographis paniculata)
20 mg
Ext. Chitrak (Plumbago zeylanica)
20 mg
Ext. Kakamachi (Solanum nigrum)
12 mg
Ext.Rohitak (Tecomella undulata)
16 mg
Ext. Katuki (Picrorhiza kurroa)
8 mg
Ext. Kalipath (Cissampelos pareira)
12 mg
Ext. Nishoth (Operculina turpethum)
12 mg
Ext. Vidanga (Embelia ribes)
12 mg
Ext. Kasani (Cichorium intybus)
16 mg
Ext. Bhumi Amalaki (Phyllanthus niruri)
16 mg
Ext. Guduchi (Tinospora cordifolia)
12 mg
Ext. Sarpankha (Tephrosia purpurea)
8 mg
Ext. Pipali (Piper longum)
8 mg
Ext. Daruharidra (Berberis aristata)
10 mg
Ext. Kasundra Beej (Cassia occidentails)
12 mg
Flavoured Syrup Base
Q.S.
Colour
Erythrosine
BENEFITS VIRGOLIV SYRUP
Stimulates the sluggish liver-spleen and regularize the bile secretion.
Effectively checks the liver profile in different pathological conditions.
Corrects the size of enlarged liver-spleen and restores the normal function.
Protects the hepatic parenchyma from various infections and keeps them healthy.
Promotes hepatocellular regeneration and prevents fatty infiltration of the liver.
Improves appetite, digestion and promotes weight gain and makes the defecation easy.
Effectively treats all type of worm infection.
DOSE:
Children: ½ to 1 teaspoonful three times a day.
Adult: 1 to 2 teaspoonful three times a day or as advised by the Physician.
PACKING:
INDICATIONS:
Jaundice
Infective hepatitis
Cholecystitis
Enlargement of Liver & Spleen
Dyspepsia
Indigestion
Worms
As a liver tonic