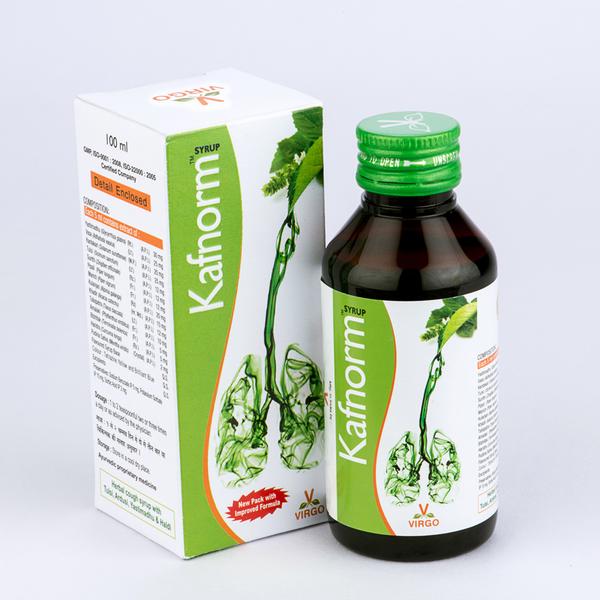 Quick Relief from Cough
KAFNORM is the combination of Bronchodilator, expectorant and mucolytic herbs. KAFNORM is very effective to treat all type of cough conditions.
COMPOSITION
Each 5 ml contains:

Ext. Yastimadhu (Glycyrrhiza glabra)
30mg
Ext. Vasa (Adhatoda vasica)
25mg
Ext. Kantakari (Solanum surattense)
20mg
Ext. Tulasi (Ocimum sanctum)
25mg
Ext. Sunthi (Zingiber officinale)
12mg
Ext. Pipali (Piper Iongum)
12mg
Ext. Marich (Piper nigrum)
12mg
Ext. Kulanjan (Alpinia galanga)
20mg
Ext. Khadir (Acacia catechu)
15mg
Ext. Talispatra (Taxus baccata)
12mg
Ext. Amalaki (Phyllanthus emblica)
10mg
Ext. Bibhitak (Terminalia belerica)
5mg
Ext. Haridra (Curcuma longa)
5mg
Pudina Satva (Mentha viridis)
2mg
Flavoured Syrup Base
Q.S.
BENEFITS KAFNORM SYRUP
Effectively controls the productive as well as dry cough.
Reduces the inflammation and infection of the respiratory tract.
Soothes the respiratory mucosa and reduces the irritation.
Clears the obstruction, makes expectoration easy and induces sense of wellbeing.
Tones up the lung and keeps them healthy for long and easy breath.
Non-sedative, well tolerated and safe for all age groups.
DOSE:
1 to 2 teaspoonfuls twice or thrice a day or as advised by the Physician.
PACKING:
INDICATIONS:
Dry Cough
Productive Cough
Infective Cough
Whooping Cough
Cough of TB
Bronchial Asthma